With the return of deadly California wildfires, the devastating effects of fire have been on the forefront of many people's minds. 2020 has already become the largest wildfire season in California's recorded history, with over 4 million acres of land burned as of October 4th, and fires still raging. Given that fire is such a hot topic at the moment, let's take some time to review some of the primary concerns specific to wildfires, broader fire concerns as they relate to living in a manufactured home, and some preparation and safety precautions you can take now and in the future.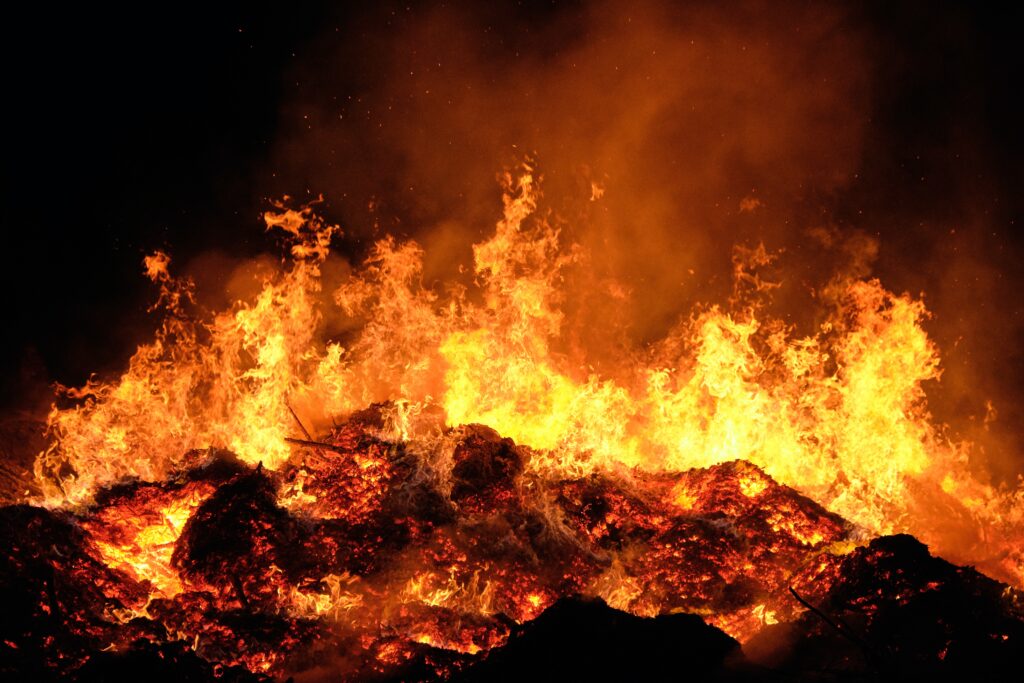 Wildfire Concerns
Beyond the obvious safety issues of fires – physical danger, property damage, visibility concerns – fires also pose a public health risk. Particulate matter (tiny particles) in wildfire smoke can contain harmful substances, including those that cause cancer. Because the particles are so small, a fraction of the diameter of human hair, some can enter the lungs and even bloodstream. There is well-documented scientific evidence linking particulates to negative health effects for the heart and lung. Even brief periods of smoke exposure can put you at risk for future disease and aggravate existing conditions.
The amount of smoke and particulates near you can fluctuate on a daily basis, so it is good practice to monitor the Air Quality Index. You can get real time updates online from the U.S. Forest Service Wildland Fire Air Quality Response Program or the AirNow Fire and Smoke Map. For a mobile friendly version, check out California's BreatheWell site. You can also check with your local air district for more information; contact information for California air districts can be found in the list here.
Protecting Yourself from Smoke
– Check air quality
– Close doors and windows
– Run AC on recirculate
– Use a certified air filter
– Avoid vacuuming, frying food, or using gas appliances, which add to indoor pollution
– Wear a mask inside if needed
Fire and Manufactured Housing
An unfortunate fact about living in a manufactured home is that you may be at greater risk if you have a fire. In 1976, the Department of Housing and Urban Development established more restrictive standards for safety and construction. Homes manufactured before 1976 were not required to meet those guidelines and are more likely to have been built with more flammable materials and have fewer exits in the event of a fire. Thankfully, a 2007-2011 study by the National Fire Protection Association found that mobile homes built after 1976 had a rate of fire deaths 57% lower than those built before HUD's standards.
A scary reality is that fire's destructive power is incredibly fast. A small flame can morph into a raging fire in minutes, and the nature of manufactured homes may also put them at greater risk for structural damage faster than a site-built home. Fires have been known to fully engulf a mobile home in under 15 minutes. Knowing this, it is extremely important to be prepared in the event of a fire and practice fire safety in your day to day life.
Fire Safety and Preparation
Be Prepared to Evacuate
This is especially important with the current prevalence of wildfires, but knowing what to do before you have to evacuate due to fire can help save you time and help you keep calm. Understand that if you are advised to evacuate, you should do so immediately. Taking time after an evacuation order to pack up your most treasured belongings could cost you your life. Below are some steps you can take to prepare for the possibility of evacuation.
Regularly tune in to your local news and/or radio for the most up-to-date information about the fires near you.
Know your exits. Map out multiple escape routes before you need them. Check that you are able to easily open windows and remove screens. Practice your routes with your family.
Have a Go Kit ready. Prepare a disaster supply kit with necessities for you, other members of your household, and any pets. A helpful list of what to include in your kit can be found here.
Precautions to Take Now
Make sure you have fire insurance for your home. While it is an unpleasant thing to think about, there is always a possibility that you may lose your home and belongings to a fire. It is worth considering insuring your home against fire and for the full replacement value. Keep in mind that it will likely cost more than the original value of your home to replace it, plus the cost of new furniture, appliances, and other belongings.
Install smoke detectors. Have one on every level of your home. Test them monthly. Change the batteries yearly. Change the detectors every 10 years.
Purchase fire extinguishers. Get a fire extinguisher appropriate for your home, as there are different types for different kinds of fire. Learn how to use one properly from your local fire department.
General Safety and Fire Risk Reduction
Avoid overloading outlets or extension cords. Limit the number of appliances and devices plugged into outlets and surge protectors.
Periodically check electrical wiring. Look for exposed or fraying wires. Dark marks on electrical outlets could be an indicator of electrical issues.
Use items like space heaters and candles under supervision and for short periods of time. Be sure to keep them away from flammable items.
Maintain and keep heat sources clean. Dust accumulated on heat strips could ignite when you turn on the heat for the first time in the season.